we appreciate your feedback!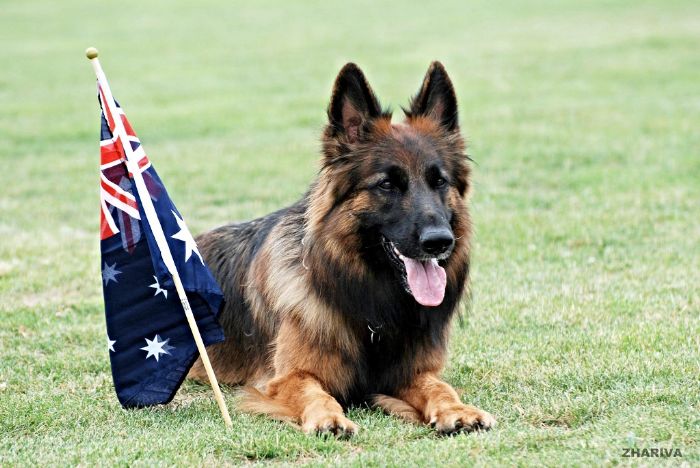 GSD featured on this page Kazkiri Xivas Ma Belle Ami. Proudly owned by Karen Cordell & Family & Noreen & Alan Symes
For those who have taken the time to write a comment in our Visitor's Book, thank you.
Your thoughts are very much appreciated!
Name : Chris
Web Site :
Country :
How you found us : Own One of the Six little Indians Shawnee
Comments : Great to see that this website is still going Indi is still doing great from the 2015 six little Indians little ( Shawnee ) Given us 7 1/2 years of happiness and still going, love her the world
Date : 21-Jan-23
Name : Michelle
Web Site :
Country : Victoria
How you found us : Look. On line
Comments : L love to be on the waiting list if ll could
Date : 28-Mar-22
Name : Karen Barton
Web Site :
Country : Australia
How you found us : Facebook
Comments : I feel so privileged to own a Gottin GSD. Our boy, Xander (aka Gottin Von Cash Money), is from the 'C' litter born 2 October 2020. He is a testament to Sarah's select breeding and the early training she does with the puppies. Xander came to us at 9 weeks old happy, healthy and full of confidence. . Now, at 12 months old, he is a big, beautiful gentle giant who brings so much love to our family and is admired by everyone he meets. His personality and intelligence are amazing and he loves to talk to us. Xander is definitely my heart dog! Can't recommend Sarah and Gottin German Shepherds highly enough!
Date : 9-Nov-21
Name : Julia Stones
Web Site :
Country : Australia
How you found us :
Comments : I just wanted to let you know that we lost obi (x litter born 6/11/2019) yesterday. He had a tumour in his abdomen which ruptured. He was a beautiful boy and we loved him and will miss him dearly Thank you for bringing him into our life. Love Chris and Julia stones
Date : 18-Sep-17
Name : Irene Price
Web Site :
Country : Australia
How you found us : Dogz on Linw
Comments : Such a beautiful website, filled with very useful and informative information. Not to mention the beautiful photos, I have spent many hours scrolling thru the.
Date : 1-Mar-17
Name : Doug, Meredith & Kristin Ferguson
Web Site : http://n/a
Country : Australia
How you found us : Bought a puppy from the B Litter
Comments : Good Morning Nana, We try to socialise Apollo as much as possible. He comes to work with me where possible. I have had customers call me to do work, only to be allowed on site if I bring Apollo. One customer has even taken him for a walk. Off he goes heeling beautifully, he's a real showman. Just last week I was working at Anglesea - the client doesn't allow dogs inside her house, I could not find him. Here he is inside sitting at her feet while she's on the computer. Apollo & I are always getting into trouble for taking too long when we go shopping. We normally have to add an extra 30 - 45 minutes because of people wanting to pat him & find out where we got him from. Just yesterday he was sitting waiting to cross the road in the shopping centre car park & this woman was taking photos of him. She asked me if she could pat him. Off he goes into sales pitch. Sits, shakes hands & leans up against them for a pat & looks at them with those big brown eyes. I'm amazed when I tie him up outside the butcher shop, how many people sit beside him & give him a pat. People can't believe it when they see him dropped outside the Hot Bread shop, with his head resting on the week's meat so no one can pinch it, but not eating it himself. Noreen, all credit must go to you for breeding Kazkiri Bark At The Moon & allowing us to have him as part of the family.
Date : 22-Jan-17
Name : Chris
Web Site :
Country : Australia
How you found us :
Comments : Well my last post here was on the 20th March 2015, since then we were lucky enough to welcome Kazkiri Shawnee (aka Indi) from the Indian Litter into our family. Indi is approx 18 months now, we all love her to bits and can not imagine our lives without her. Our whole experience with Kazkiri has been incredible, we are so grateful to have Indi as she has brought so much happiness into our lives, .......Thanks Noreen .......Chris and Pach
Date : 26-Dec-16
Name : Ron Saul
Web Site :
Country : Australia
How you found us : Facebook
Comments : Beautiful website, one of the best I've seen and I've seen a lot. Your dogs are beautiful and handsome, I'm very much admire your reviews and know we would love a puppy from you, we have always love Shepherds and to welcome one of your puppies into our family would be amazing, looking forward to talking to you kind regards Ron Saul
Date : 7-Sep-16
Name : Mardie
Web Site :
Country : Muir
How you found us : Bought a dog 12 years ago from Noreen Ushkas last
Comments : Best dogs ever,and came from the best breeders in Australia,Kazkiri GSD
Date : 28-May-16
Name : Peter Baron
Web Site :
Country : Australia
How you found us : Web Search
Comments : Congratulations on your comprehensive website. We lost our much loved Shepherd one week before Christmas 2015. She was 16 years 2 months. The same grand old age as our first Shepherd. When we are ready in the next few months, we certainly will be in touch with you guys. Still too soon, but I believe our girl "Red" would want us to have another Shepherd share our hearts with herself and our first girl "Aussie".
Date : 1-Mar-16
Name : Jodie Jones
Web Site :
Country : Australia
How you found us : Internet
Comments : Thank you for such a beautiful website. I grew up with German Shepherds, have trained and shown them. Sadly we lost our beautiful boy a few years ago and I have never been able to bring myself to own another one until now, such was the loving bond we shared. I still miss him to this day... I will definitely be filling out an application in the hope of enjoying that trusting, loving, loyal bond once again. Thank you....
Date : 7-Jan-16
Name : Nikky Fontana
Web Site :
Country : Australia
How you found us : via Dogzonline
Comments : What a beautiful site, filled with the bestest breed in the world - the GSD! I was thrilled to find a well-credentialled breeder so close to home!!!!. After losing my boy Sampson (Tannenholtz Pharo) last December at the grand age of 13 1/2, I needed a GSD fix!Thank you for such beautiful dogs. Have an extraordinary day, Nikky.
Date : 14-Jul-15
Name : Karen Freeman
Web Site :
Country : Australia
How you found us : obtained Pia from you 11 years age
Comments : I felt it couteous to let you know that Pia passed away last evening from a secondary tumour on her liver, bleeding into her abdomen. I would like you to know she was 'The Best Shepherd`,she was a wonderful example to the public and we were always very proud of her. I loved her with every part of my heart and soul, she had a wonderful life,she was loved for every second. I will miss her so very much. I thankyou for allowing me to be at her conception,her birth, and sharing her life with her. Karen Freeman
Date : 6-May-15
Name : cathy mackenzie
Web Site :
Country : new zealand
How you found us : facebook
Comments : A. I wanted to be the first new Zealander on you guest book and B. I admired a picture or two of your dogs on Facebook and thought I would check out your kennel online. You have lovely dogs and your website is very informative in all matters relating to GSD. I shall return for more reading. I am coming across for the Melbourne National this year and I hope to see your dogs in real life.
Date : 21-Mar-15
Name : Chris Larson
Web Site :
Country : Australia
How you found us :
Comments : Hi Noreen, I love spending time on your web site. The time and effort you put in is second to none. Its incredible and you should be very proud. I think you would have to be the best breeder in this country, We look forward to owning a Kazkiri GSD in the near future. Regards Chris
Date : 20-Mar-15
Page 1 of 7 Pages.
Add your entry to the Guest Book by filling in the following form.