kazkiri xavi 2012 gold medalist aka sparta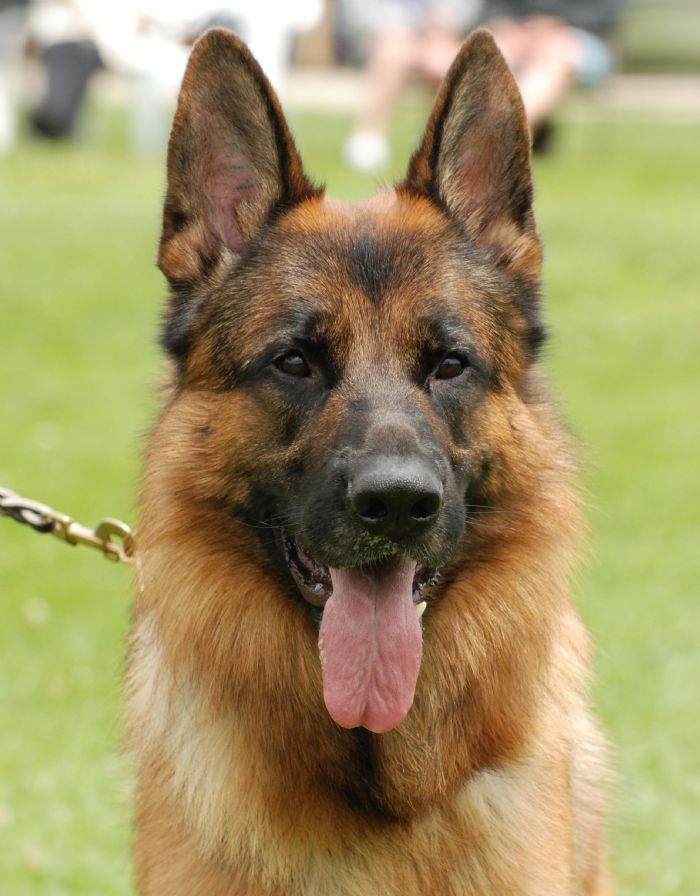 Photo 2012 Gold Medalist Kazkiri Xavi.
Pedigree
Breed Survey
Show Results
Photo Album

Pet Name:'Sparta'
Registration: 3100230240
Gender: Male
Date of Birth: 6 November 2009
Owner: Angela Borchard & Noreen Symes
Colour: Black & Tan
Height: 64.5cms
Sire: Mika vom Overledingerland (imp Gmy) á' ED (Gmy) Hneg
Dam: Jannire Black Betty A Z
Line Breeding: Nil

Xavi's sire

Mika vom Overledingerland (Imp Ger.)

Excellent Merit.

Mika has excellent HD/ED statistics and is amongst the best producers in Australia for low HD scores, ED statistics 84% Normal, 16% Grade 1 no Grade 2 or 3)

Xavi's dam, an Igor von Pallas Athene daughter, Jannire Black Betty (Bebe) has been described by Herr Hans Peter Fetten (SV) as "absolutely anatomically correct". Bebe is one of two Australian bred brood bitches to have produced two National Medalists (Gold 2012, Silver 2013) from the same litter. She has also produced 9 progeny (from 3 different sires) that have their A & Z Stamps (Refer to ur HD/ED scores)

Xavi's grandsire is arguably one of the best producers in the World, the incomparable

Quenn vom Löher Weg

-

Triple VA

Xavi's lines on his dam's side include -

Romeo vom Pallas Athene

-

V4 FCI World Winner 2002

,

the legendary

Timo vom Berrekasten

- Vice Sieger

Fanto

vom

Hirschel

- Dual Sieger

Dixi vom

Nat

oplatz

- Siegerin & Dual VA

Lux de Valdovin

– "

considered to be the best son of Zamb von der Wienerau

& half brother to the beautiful Dual VA, Spanish, Italian & Belgium Siegerin -

Ulme de Valdovin"

Aimsway Abacus

- Australian Sieger & Gold Medallist

Iwan vom Lechtal

(Imp Ger.) - Australian Sieger & Gold Medallist

Dorsten Monte Cito

- Australian Dual Sieger, Triple Gold Medallist

Iniff Vagrant

-

Australian Sieger & Gold Medallist

Quincito Awol

- Australian Sieger, Gold, Silver & Bronze Medallist
S

:*Mika vom Overledinger Land




S:*Quenn vom Löher Weg

S:*Uran vom Moorbeck

D:*Elsa vom Kuckucksland

D:*Kelli vom Overledingerland

S:*Nasko vom Nordteich

D:*Anka von Haus Arnemann

D:*Jannire Black Betty




S:*Igor von Pallas Athene

S:*Drago von Pallas Athene

D:*Ilexa vom Schloß Querenburg.

D:*Kazkiri Dana Scully.

S:*Aimsway Abac

us

D:*

Hilltop Vro

ni
Breed Survey Class 1
Surveyor Mr Vince Tantaro
4 December 2011
Mr Vince Tantaro's critique of Kazkiri Xavi at the Survey held on the 4 Dec 2011.
The critique is taken from the video filmed on the day by Erica Hogan.
Erica. To me, the video is worth more than I can say - thank you so very much!

"This is a very exciting young dog.
There is no line breeding on this dog, however, what he does have is type.
He is an above medium size, strong masculine dog of desired type. Very good head & expression. Very good length of neck. High withers, firm back, exceptional croup. Very good top & underline. Correct in front. Very good fore & hindquarter angulation. Balanced movement no exaggeration.
A dog that presents a beautiful picture in stance & movement. A dog with a lot of potential.
Breed Survey. Kazkiri Xavi Breed Survey Certificate

Show Results
Sparta has been sparingly shown (5 times - 3 Firsts - 2 of these include Junior Dog Sieger 2011 & Open Dog Sieger 2012, two Seconds - all accomplished by the time he was 2.5 years of age). Details of these results are as follows:

Gold Medalist & Challenge Dog at 2012 GSDCA National
Judge Herr Albrecht Woerner - SV Germany

"A dog of the desired size, very good expression, very good top and underline, high wither, straight back and good croup. Very good angulation of the fore and hindquarter. Steps correctly both front and rear. Shows very good movement, powerful drive and free reach and above all he really has ground covering movement. Speed has nothing to do with length of stride. It is the drive and the reach."
Critique taken from video filmed by Christine Hutchison on Sparta's Victory lap.
2nd Open Dog & Reserve Challenge at 2012 Easter Championship Show & Trial
Judge Mr Malcolm Griffiths UK
8 April 2012
1st Junior Dog & Best Junior in Show at 2011 Victorian Championship Show
Judge Mr Russel Wenham
30 April 2011
Large, strong, well boned, well coloured, well pigmented male of excellent type and outlook. Strong masculine head with the desired skull planes. Very good eye colour, good strength of upper and lower jaw, correct ear set. Correct length of neck. High withers, firm back, good length and mould of croup. Very good forequarter angulation. Pronounced chest development for his age. He should not get any deeper. Stands correct in front. Good underline,. Very good hindquarter angulation with broad well muscled thighs, short strong hocks. Moves correct going hocks should be a little firmer, correct coming, the elbows should be a little firmer. In movement displays good ground covering gait with a very good sequence of steps
2nd Open Dog & Reserve Challenge GSDCV Inc Championship Show
Judge Herr Eric Bosl SV Germany
11 March 2012
Junior Sieger at 2011 GSDCA National
Judge Herr Norbert Wetlaufer - SV Germany
22 April 2011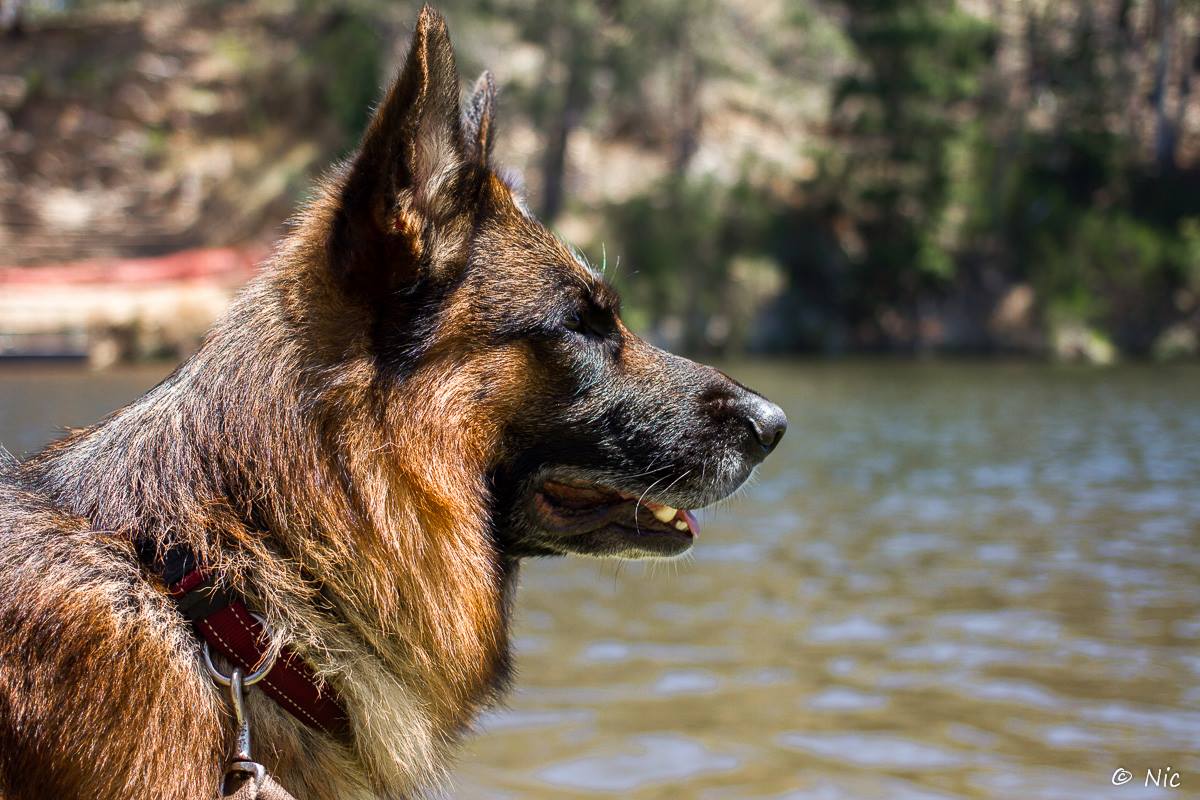 Photo: Sparta on holiday with my great friend Nic Hamilton who took this wonderful photo


Welcome to Sparta's Photo Album.
Click each link to view larger photo.