kazkiri xiva 2009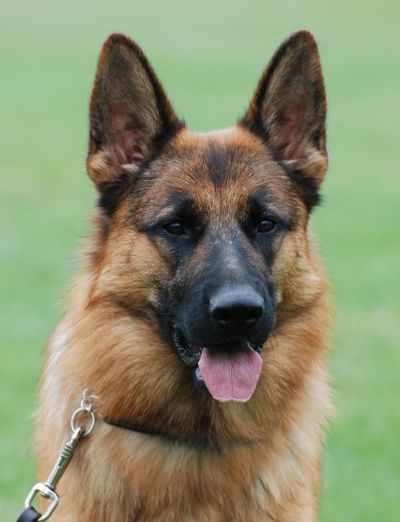 Photo: Kazkiri Xiva
Courtesy Zhariva Photography
Pet Name:'Xiva'
Registration: 3100230244
Gender: Female
Date of Birth: 6 November 2009
Owner: Karen Cordell & Noreen Symes
Colour: Black & Tan
HD (Hips): A 1:3
ED (Elbows) Z 0:0
DNA tested clear for DM (Degenerative Myelopathy)
DNA tested for Long Stock Coat gene - Carrier
Height:
Sire: Mika vom Overledingerland (imp Gmy) á' ED (Gmy) Hneg
Dam: Jannire Black Betty A Z
Line Breeding: Nil
5 Generation Pedigree.

Xiva's grandsire is arguably one of the best producers in the World, the incomparable

Quenn vom Löher Weg

-Triple VA

Xiva's dam, an Igor von Pallas Athene daughter, Jannire Black Betty (Bebe) has been described by Herr Hans Peter Fetten (SV) as "absolutely anatomically correct". Bebe is one of two Australian bred brood bitches to have produced two National Medalists (Gold 2012, Silver 2013) from the same litter. She has also produced 9 progeny (from 3 different sires) that have their A & Z Stamps (Refer to ur HD/ED scores)

Xiva's lines on his dam's side include -

Romeo vom Pallas Athene - V4 FCI World Winner 2002, the legendary Timo vom Berrekasten - Vice Sieger
Fanto vom Hirschel - Dual Sieger
Dixi vom Natoplatz - Siegerin & Dual VA
Lux de Valdovin – considered to be the best son of Zamb von der Wienerau & half brother to the beautiful Dual VA, Spanish, Italian & Belgium Siegerin - Ulme de Valdovin
Aimsway Abacus - Australian Sieger & Gold Medallist
Iwan vom Lechtal (Imp Ger.) - Australian Sieger & Gold Medallist

Dorsten Monte Cito

- Australian Dual Sieger, Triple Gold Medallist

.

Iniff Vagrant - Australian Sieger & Gold Medallist
Quincito Awol -

Australian Sieger, Gold, Silver & Bronze Medallist

.

S: *Mika vom Overledingerland


S: *Quenn vom Löher Weg

S:*Uran vom Moorbeck

D:*Elsa vom Kuckucksland

D: *Kelli vom Overledingerland

S:*Nasko vom Nordteich

D:*Anka von Haus Arnemann

D: *Jannire Black Betty


S: *Igor von Pallas Athene

S:*Drago von Pallas Athene

D:*Ilexa vom Schloß Querenburg

D: *Kazkiri Dana Scully

S: *Aimsway Abacus

D:*Hilltop Vroni
Welcome to Xiva's Photo Album.
Click each link to view larger photo.