breed specific questions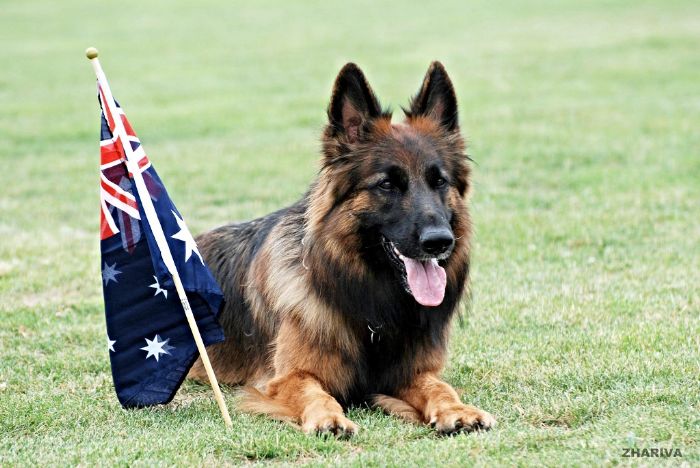 what is the difference between a german shepherd dog and an alsatian?
There is no difference.
After the two World Wars, anything that was German fell out of favour with the populace. So instead of the German Shepherd Dog, the breed was known as the Alsatian.
what is the history of the german shepherd dog breed?
The origins of the breed came from various sheep dogs found in Germany during the last century. In the second half of the nineteenth century, dog breed fanciers began to fix the type of sheep dog found in Germany that would eventually form the basis of the modern German Shepherd Dog........ read more
why is the word 'dog' used in the breed name?
The name in Germany is Deusche Schaferhunde, which translated means 'German Shepherd Dog'. The word 'Dog' is actually part of the breeds name, unlike other breeds.
should I introduce a male or female gsd into our home?
This is a very important decision if you're looking for a companion or a dog which will fit in with your lifestyle. We ask you take these generalisations into consideration.
Male German Shepherds:
Male German Shepherds tend to resource guard "items" they claim as theirs towards other members of the family much more frequently than females, this isn't a problem usually if your GSD is raised, handled and trained like a dog! This occurs more frequently when they become spoiled and their owners treat them as equals in the household instead of respecting them for what they are, dogs!
Male German Shepherds can become quite dominant if not raised with a strong pack structure and will forced into the position of making their own decisions in the household if there are no rules to follow. Once again this usually isn't a problem if your GSD is raised, handled and trained/treated like a dog!
Male GSDs tend to be more territorial over their person but most always love the rest of their family members but they will never be that important to them, generally speaking and of course there are exceptions to every rule.
Male GSDs tend to bond to one person of the household, usually the person who is doing the training, rearing and spending the most quality time with them that provides them structure and leadership.
Males are generally better for "personal protection"
The least important difference is that Male GSDs tend to be larger than females & more masculine.
Female German Shepherds:
Female GSDs are less likely to resource guard items towards other family members. They can become dominant if not raised with a strong pack structure but nothing like a male. Female GSDs tend to be less territorial over an individual person and more territorial over all their family or "pack" members. Female GSDs tend to bond to one person of the household but are more likely to be friendly and love all members. Female are generally better for "family protection". Females are more sensitive than males & easier to train, generally speaking. They're better for agility, rally obedience, etc due to their size. Females tend to tolerate children and strangers with much more ease than the males. The least important difference is that Female German Shepherds tend to be smaller than males & more feminine.
Kazkiri recommends a female GSD for first time GSD owners, first time dog owners, families with young children where the dog will not be worked/seriously trained or if you lack self confidence. A male may take advantage of this weakness.
what is a long stock coat gsd?
A long stock coat has a long double coat (Long Stockhaar) with long, wavy, topcoat not lying closely, with undercoat, feathering on ears and legs, bushy breeches and bushy tail forming flags below. Long Stock coat GSD's may be shown and bred. *Kazkiri Ximon
what is a stock coat gsd?
The stock coat of the GSD is a double coat (Stockhaar) with undercoat. The top coat should be as dense as possible, straight, harsh and close lying. It should be short on the head, including inside the ears, the front of the legs and on the feet and toes; it is a little longer and heavier coated on the neck. The hair lengthens on the back of the legs to the pastern or hock; on the back of the thighs it forms moderate breeching. *Kazkiri Xavi
when will my puppys' ears stand up?
Some puppies ears are erect as early as eight to ten weeks but generally the pup's ears are up by 4 or 5 months of age. If this is not the case with your puppy, become very interested in your German Shepherd Dog's ears.
It is not unusual for the German Shepherd Dog puppy ears not to be up until four to five months of age.
It is also quite common & completely normal for a puppy to have erratic ear carriage - up one day and down the next - especially when going through the teething process and for this cycle to repeat as the puppy's ears become erect?
The teething process generally takes valuable calcium from the puppy's developing ear structure to those developing teeth and that is one good explanation for the whole procedure of German Shepherd Dog puppy ears being up one day, and then down the next as the puppy matures?
Try stimulating your puppy to use his ear muscles so that the ears may become erect faster naturally. This can be done by making interesting noises, etc. to get his attention and make him use his maturing ears. Also give brisket bones to exercise the jaw muscles. Do not try and stimulate the muscles through touching as this may damage the cartilage in your pups ears, which can affect the ear carriage.
It is not time to panic. However, some puppies do need a little assistance in getting their ears to stand up. We recommend the puppy owner contact either their Breeder or their Veterinarian and perhaps they will recommend the taping of your puppy's ears. There is more information for you here.
what are the breed improvement schemes?
The GSDCA has introduced a number of tests for the screening of adult dogs for the improvement of the breed including several which focus on hereditary diseases. These latter schemes include the Hip and Elbow Dysplasia Control Scheme and the Haemophilia Scheme. Adult dogs (over eighteen months of age), after having successfully passed these schemes are encouraged to be presented for Breed Survey.

The breed improvement schemes consists of:
Hip/Elbow x-raying
Haemophilia testing
Breed Survey
NB:The ANKC requires all puppies to be microchipped. At time of registering a litter of puppies the Breeder provides the ANKC the matching of Microchip Number to the Dog's Registered Name & Number.
Effective from 1st January 2012 the GSDCA moved that microchipping is an acceptable form of identification for the GSDCA Breed Improvement Schemes.
Microchipping is a permanent form of identification and subsequent re-uniting of you and your dog if it becomes lost.
what does the "A" after my German Shepherd's name signify?
An 'A' Stamp is issued to any German Shepherd Dog which is x-rayed through the GSDCA HD Scheme & receives a score of 8 or less in any one hip with a maximum of 3 allowed in any one area. Scores of 9 and up (per hip) result in a fail. So for example when you see "A"2-3 the dog has scored 2 on the right hip and 3 on the left hip and has passed the GSDCA Hip Dysplasia Scheme.

The German Shepherd Dog National Council has consistently introduced schemes, which have been intended to improve the standard of breeding German Shepherd Dogs in Australia. the Breed Survey, Elbow x-ray and Haemophilia A testing schemes are notable examples. Read more ........
what does the "Z" after my German Shepherd's name signify?
A "Z" Stamp is issued to any German Shepherd Dog which is x-rayed through the GSDCA ED Scheme & receives a score of 5mm or less arthritic change. The elbows are usually x-rayed at the same time as the hips, i.e when your German Shepherd Dog is over the age of 12 months. The presence of an ununited anconeal process is noted as are any arthritic changes. The plates are read by a radiologist and graded Normal e.g "Z"0-0 (no arthritic change) Grade 1 e.g "Z"0-1 (up to 2mm arthritic change) or Grade 2 e.g "Z'0-2 (up to 5mm arthritic change. Any elbow with more than 5mm of arthritic change or an ununited anconeal process are failed.

The Elbow Scheme was introduced in 1993. This scheme involves x-raying the animals elbows at 12 months of age. Read more ......
what does the BS CL1 or BS CL11 after my German Shepherd's name signify?
A Breed Survey is unlike 'showing' an animal, as dogs are not assessed against one another. Animals who are presented for Survey must be at least 18 months of age. Copies of the original documents for hip, elbow,haemophilia (the haemophilia scheme applies to imported male dogs and sons of imported females only) and a five generation pedigree are required by the surveyors.
*The following additional requirement for GSDCA Breed Survey shall apply as of 1st July 2018.
Animals MUST not be desexed, have gained a minimum of a "Good" grading at a specialist or recognised show and registered on the ANKC Main Register prior to application for Breed Survey.
A grading as awarded overseas shall only be accepted if it gained at a show as conducted by an organisation as recognised by the GSDCA.[Please refer to listing as per Regulation 3.8].
A copy of the Grading Certificate as signed by the Judge must accompany the application.
The Grading Certificate must be presented to the officiating Breed Surveyor.
Where Grading Certificates are not issued or personally signed by the judge the following information: date, name of judge and club that conducted the show must be entered on the GSDCA Form BS 1 – Application for Breed Survey.
The ear is checked for the correct tattoo number, the dog is then weighed, measured and the teeth checked for correct dentition. The anatomy is assessed in a subjective manner based upon the Breed Standard. There is also a gun and crowd test. All information is recorded.

In general a comprehensive evaluation of the dog is made. Dogs are classified Breed Survey Class 1 (Recommended for Breeding), Breed Survey Class 11 (Suitable for Breeding) or NRB (Not Recommended for Breeding).
can the breeder guarantee that the puppy will not have hip or elbow problems?
No breeder can guarantee that your puppy will not have hip or elbow problems. But a responsible breeder will guarantee that if there is a genetic problem with hips and/or elbows, they will replace the puppy or refund your money.

Most breeders require the owner to return the puppy for replacement. Do not be dismayed by the breeder requiring the return of the puppy. The puppy may be in a great deal of pain and the owner emotionally unable to deal with having to put the puppy to sleep. A responsible breeder will want what is best for the puppy/dog.
BE VERY WARY OF THE BREEDER WHO SAYS THAT THEIR PUPPIES WILL DEFINITELY NOT HAVE ANY HIP/ELBOW PROBLEMS!