jannire black betty - bebe 2006 - 2019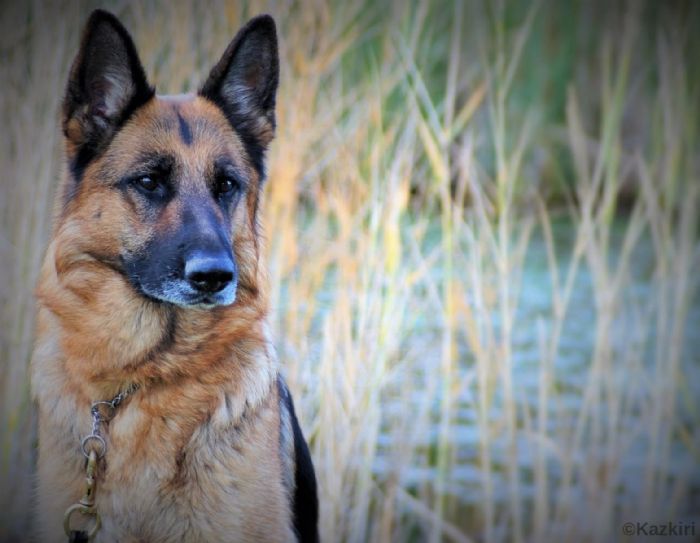 Photo: Jannire Black Betty
28 August 2006 - 2 October 2019
In the history of the German Shepherd Dog Breed in Australia only two Australian bred brood bitches have produced National Medalists from the same litter.
We are proud that Jannire Black Betty is one of them.
Jannire Black Betty produced the Gold Medalist at the 2012 National - *Kazkiri Xavi
and also produced the LSC Silver Medalist at the 2013 National - *Kazkiri Ximon.
Jannire black Betty has also produced 9 progeny - from 4 different sires -
that have their Hip & Elbow Stamps
*Kazkiri Xavi
*Kazkiri Ximon
Kazkiri Xiva
Kazkiri Kreuzer
*Kazkiri Kumani
Kazkiri Voltron
Kazkiri Vykin
Kazkiri Voltar
Kazkiri Deep Purple
Pet Name: Bebe
Sire: *Igor von Pallas Athene Imported Germany
Dam: *Kazkiri Dana Scully
Date of Birth: 28 August 2006
Sex: Female
Owners: Jannire GSDs & Kazkiri GSDs
HD (Hips): A 1:3
ED (Elbows) Z 0:0
Jannire Black Betty's critique by Judge Herr Hans Peter Fetten'at the 2008 GSDCSA National where Bebe was placed 2nd Intermediate Bitch.
"Large, medium strong, substantial bitch of very good pigment and very good proportions. Strong expressive head with dark eyes. High withers firm back harmoniously constructed croup which is of good length and lay. Very good fore and hindquarter angulation. Stands correct in front. Shows correct sequence of steps. During movement shows an enthusiastic powerful far reaching gait."
On the "pegs" Herr Hans Peter Fetten commented "the best constructed bitch in a quality class; absolutely anatomically correct, thus enabling her to have the correct sequence of steps, showing far reaching powerful movement".
Jannire Black Betty's Pedigree
S:*Igor v Pallas Athene

S: *Drago v Pallas Athene

S: *Romeo v Pallas Athene

D: *Hilka v Monchberg

D: *Ilexa v Schoß Querenburg

S: *Timo v Berrakasten

D: *Wenke v Schloß Querenburg

S: *Aimsway Abacus

S: *Balou v Eppelein

D: *Rakishka Ali

Dam: *Hilltop Vroni

S: *Iwan v Lechtal

D: * Hilltop Maddii
General Description: A large, medium strong, very well coloured & pigmented bitch of very good type. Very good head & desired feminine expression, enhanced by dark eyes & masking. Good length of neck. High withers, firm back, slightly short croup. Very good fore & good underchest development. Stands correct in front. Good fore and very good hindquarter angulations. Steps correct in front & rear with very good firmness of elbows & hocks. In movement shows very good ground cover with powerful drive. She presented herself with confidence & is gun sure.

Temperament Test & Gun Test: Character - reliable, lively, good natured. Watchfullness - very alert.
Condition of nerves -firm. Confidence - self assured. Reaction to gun test - self assured.

Particular Virtues & Faults: A bitch of desired type that possesses very good overall construction, colour & pigment.

Advice for Selection of Breeding Partner: Selection to be based on consolodating type. Only very well angled & pigmented dogs should be considered. No further linebreeding on Aimsway Abacus or his near relatives should be considered

Welcome to Bebe's Photo Album.
Click each link to view larger photo.