kazkiri jubilee aka saffy 2007 - 2019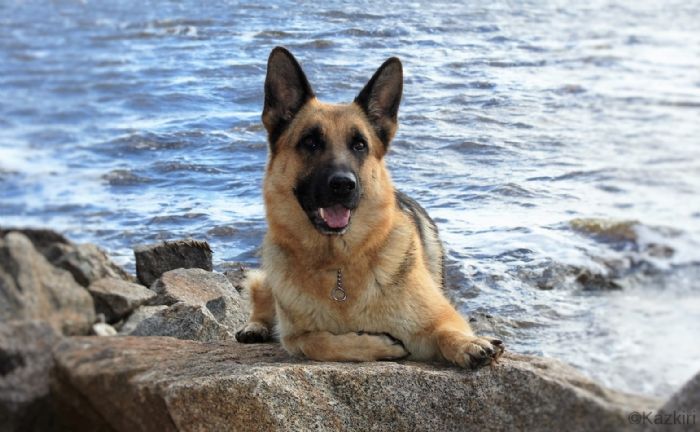 Photo:

*Kazkiri Jubilee
20 June 2007 - 5 January 2019
Pet Name: 'Saffy'
Sire: Igor von Pallas Athene Imported Germany
Dam: Australian Champion *Kazkiri Divine Miss M
Date of Birth: 20 June 2007
Owner: Kazkiri
Sex: Female
Hips: A 2:2
Elbows: Z 0:0
S

: *Igor v Pallas Athene

S: *Drago v Pallas Athene

S

: *Romeo v Pallas Athene

D

: *Hilka v Monchberg

D

: *Ilexa v Schloß Querenburg

S

: *Timo v Berrakasten

D

: *Wenke v Schloß Querenburg

D: *

Kazkiri Divine Miss M

S

: *Adrian zur Seehöchte

S:

*Pero v Noort

D:

*Merret v Noort

D

: *Tellus Solos Victory

S

: *Hagenstolz New

Horizon

D:

*Sonnentahl DDS Solitaire
General Description:
A large bitch of very good type & proportions. Good head & expression, dark eyes & good pigment. Firm back. Very good angulations of the fore & hindquarter. Very good fore & underchest. Stands with a good top & underline. She stands correct in front & steps correct front & rear. Firm in character & to the gun.
Temperament Test: Trustworthy, reliable, lively & good natured. Very alert & self assured.
Temperament Test & Gun Test:
Character - trustworthy, reliable, lively, good natured.
Watchfullness - very alert.
Condition of nerves -firm.
Confidence - self assured.
Reaction to gun test - self assured.

Particular Virtues & Faults: A good type of bitch that presents a better picture in stance than movement.
Advice for Breeding Partner: Select a dog to improve the wither area. The lines of Janos Noriswand may be advantageous.

Breed Surveyor: Mrs Faye Stokes

Breed Survey Date 20.09.2009
Return to Top