vaccinations
We are not Veterinarians. You, as the owner, are bound to care for your puppy/dog by seeking Veterinary care promptly when needed. We encourage you to speak to your Vet if you are at all concerned about the health of your puppy/dog.

If at any time you are in doubt about any health situation or EMERGENCY you find yourself and your pet in, CONTACT YOUR VET IMMEDIATELY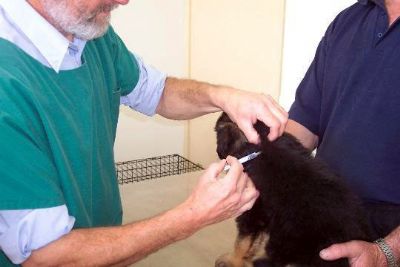 Vaccinations
If you have purchased your puppy from a registered breeder, you will have received a vaccination card in your puppy gift pack that says the puppy has been vaccinated at 6 weeks of age with his temporary vaccination. You will see that the next vaccination is due when the puppy is 12 weeks of age.Your puppy/dog will then be vaccinated a year later (at approx 15 months of age). After this vaccination at approximately 15 months, some veterinarians advocate vaccinating every 3 years. Be advised by your qualified veterinary surgeon as to what vaccinations your puppy/dog needs.
Puppy Vaccinations - With the superior vaccines we use, puppies 10 weeks and over now only need a single C5 vaccination. Booster injections will not be required until they are over 14 months old. This vaccination covers distemper, hepatitis, parvovirus, bordetella bronchiseptica and parainfluenza 2 – canine cough/kennel cough. The best part is that the pups can be socialised (allowed out for walks and playing with other dogs) much earlier – allowing a more normal social development.
Adult Dog Vaccinations - The triennial C5 vaccine given at our veterinary clinic covers for distemper, hepatitis & parvovirus for 3 years, and covers the bordetella bronchiseptica and parainfluenza 2 (canine cough/kennel cough) for one year. The heartworm injection (proheart SR 12) also covers your adult dog for one year.