Harlow - Sheznova Djossi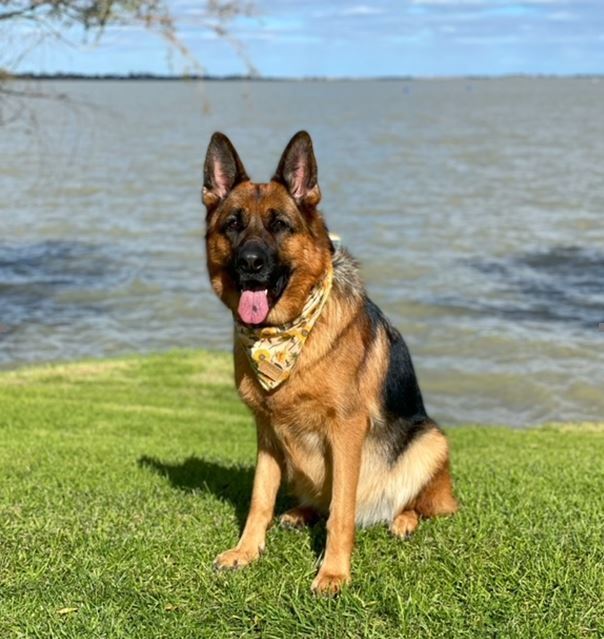 GSD featured on this page Sheznova Djossi - Harlow
Pet Name:'Harlow'
Registration:
Gender: Female
Date of Birth: 1st August 2018
Owner: Sarah Buckley
Colour: Black & Tan
HD (Hips): A 2:3
ED (Elbows) Z 0:0
DNA tested - clear for DM (Degenerative Myelopathy)
DNA tested for Long Stock Coat gene - Carrier
Sire: Djambo vom Fichtenschlag
Dam: Sheznova Starkisst
About Harlow:
Harlow is a funny dog, she fits into our family well. Harlow loves her family unit and she is VERY chatty. Liz (Sarah's mum) thought it would be 'fun' to teach Harlow to speak and we haven't heard the end of it…
Harlow is the bottom of the pecking order and lets any dogs or cats in the home tell her what to do. In a family where you have multiple entire (undesexed) dogs its great to have them all taking up different parts in their pack, this prevents unnecessary fights. Many breeders need to keep their girls separate due to fighting for the top dog spot but we are very lucky our girls all get along extremely well.
Harlow is a great mum, she has lots of milk and is SO caring for her babies. Harlow has had 2 litters, she will be desexed after her 3rd litter.
Harlow excels at getting the job done, she is very smart and likes to work with her family. She has done obedience, tracking, agility, raly-o. Now she is (almost) retired from having babies its time to get out and do some competitions.
S: *Djambo vom Fichtenschlag

S: *Illiano vom Fichtenschlag

S: *Remo vom Fichtenschlag

D: *Viana vom Fichtenschlag

D: *Milana von der Barenschlucht

S: *Vegas du haut Mansard

D: *Tiana vom Fichtenschlag

D: *Sheznova Starkisst

S:

*Labo vom Schollweiher

S:

*Arex von der Wilhelmswarte

D:

*Fraya d'Ulmental

D: *Sheznova Solitaire



S

:*Kwint vom Juerikstall

D

:*Sheznova Star Esprit
Welcome to my Photo Album.
Click each link to view larger photo.