preparing for your puppy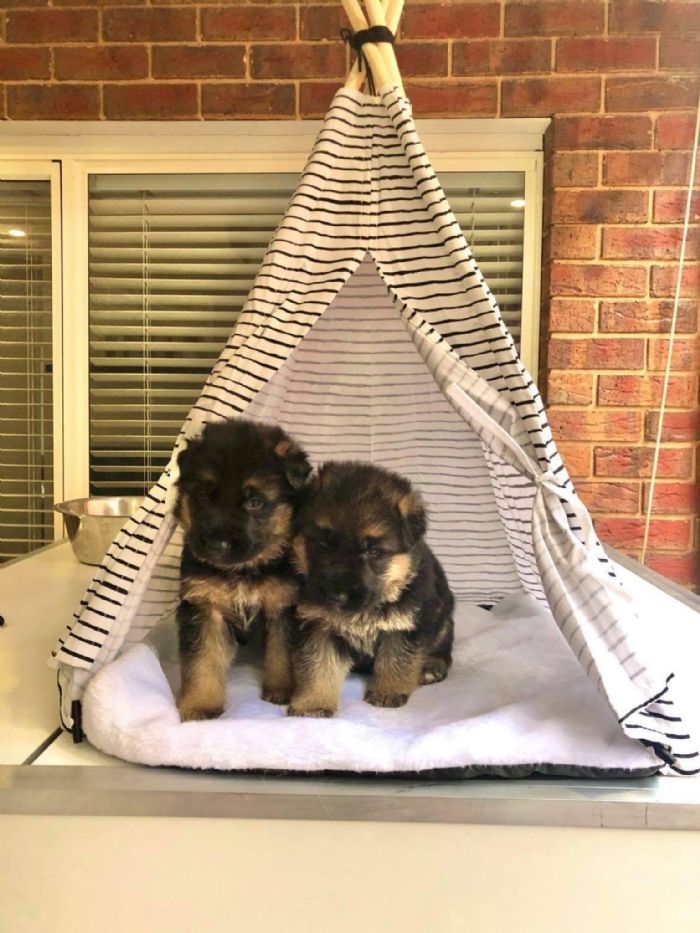 Photo:
G
öttin
C Litter
Before you bring your puppy home you will need to get ready! The more prepared you are, the easier you will find it for the new member to adjust to his/ her new family & home. Here are a couple of ideas to help prepare for the arrival of your new puppy:
Purchase:

an u

ntippable food & water dish.

a natural bristle brush

a collar and lead. The collar should be the correct size for the puppy the day you bring him home. Size the collar by making sure that two fingers can slip underneath it easily. Be prepared to buy a new collar every 2 months or so until your dog is full-grown, and a new lead if your puppy chews through it!
We recommend Black Dog Products

a pooper scooper & bags a crate. Download

Puppy Crate Training

(PDF)

More on Crate Training
Choice of Crate: This is very important when it comes to the humane treatment of your puppy. The puppy should have enough room to move around and be comfortable in. If the crate is too large - the puppy might even relieve himself inside the crate. It is cruel to leave your puppy inside the crate for too long. Night time is crate time and often even very young puppies can go the entire night without soiling their crates. You will want the puppy to slowly get used to the crate. The puppy needs to feel that the crate is his haven, so put his/ her bedding & blanket and the puppy's favourite toys in there. We also put a treat or two in the crate to tempt the puppy. Never force your dog inside the crate. It is his safe haven in his new home . bedding for the crate - to cover whatever bed we are using we order the really cosy green backed Vet Bed (this is what the puppies lay on in the whelping box) or the non slip rubber backed Vet Bed ( though I have not used the rubber backed vet bed) and both are readily available from The Wolf's Den good quality nail clippers grooming products i.e brushes, combs, slickers, shampoo (we recommend Plush Puppy Products) suitable inside & outside bedding a storage bin for dry food
and toys
Great interactive toys that are available in any style to suit every dog
Aussie Toys , Planet Dog Orbee Balls
Some of our dogs favourite toys can be found at The Wolf's Den i.e Hollee Roller Balls.

also
Check with the Breeder what food your puppy is eating. Do not change the puppy's diet which has been recommended by the Breeder. Make sure you have a supply ready if your breeder has not arranged for a bag of formula to go with puppy.Contact your Vet & make an appointment for your puppy's first visit within 48 hours of picking your puppy up.
Try to arrange to pick up the puppy from the breeder in the morning, this will give the puppy most of the day to travel & settle in to his/her new home.
It is an idea to bring a travel blanket & or a large towel as we always advise the new owner to nurse the puppy on his/her first long car trip.

Contact a very good obedience club in your area & become a member.
Obedience Clubs which our puppy/dog owners recommend